Stay compliant

and competitive

beyond 2020
Global Sulphur Cap is almost there
The Global Sulphur Cap 2020 regulations specify that every vessel must adhere to strict sulphur emissions limits by 1 Jan 2020 or face significant consequences, including fines and delays to your shipping schedule.

The International Maritime Organization (IMO) have promised that this deadline isn't going to change.
Your fleet needs to be made ready for whichever solution you choose to comply. Not only this, but your engines need to be more efficient to secure your competitiveness for the future. But time is almost up. You need to engage with an engine partner now with the right expertise and engine solutions in place to guide you successfully through this transition. This includes retrofitting your fuel system with a 2020 Filter Solution upgrade to protect your vessel from increased levels of cat fines in HFO and low sulphur fuels.
Are your business prepared for the IMO Global 0.5% Sulphur limit? Check out our solution on how to prepare for the change from engine operation on high-sulphur fuel to 0.50% S fuel.
Your partner for 2020 compliance
With MAN PrimeServ, you have an engine partner ready to guide you through the transition to 2020 and beyond.
We have the expertise to help you understand the risk and challenges that Global Sulphur Cap 2020 presents, and to make sure you make the right choices to secure your future.

Our technology portfolio is fully developed and ready to support the decisions you make, with scrubber solutions, or by adapting your engines to run on gas or new very-low-sulphur compliant fuels.

We also have a complete range of options to help make your engines more fuel efficient, so you stay competitive as fuel prices most likely will rise.

However, right now over 60,000 vessels worldwide need to make the necessary changes in order to comply. Unavoidable limitations due to production times, logistics and manpower mean that unless you engage now it will be difficult to ensure implementation in time.

So contact us now to make sure your fleet - and business - stays safe.
More than 60,000 vessels will have to comply by 1 Jan 2020 (Source: Reuters)
The industry can only fit an estimated 3,000 scrubbers in time (Source /Worldmaritimenews)
We are ready to help you comply with 100 Service Centers worldwide
Don't wait – start the process now
Fill in the form below and we will contact you within 24 hours.
See what the industry is thinking
We have been researching on how maritime businesses like yours are planning to meet the 2020 regulations. Get some more insights and download the report
Download report now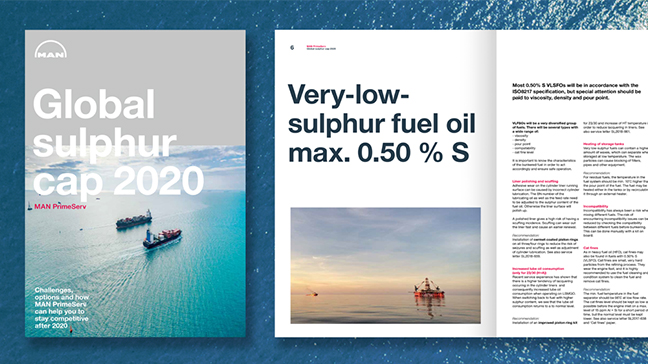 Download your 2020 brochure
To learn more about Global Sulphur Cap 2020 and how MAN PrimeServ can keep you compliant and competitive ahead of the deadline, read our brochure now.
Download the brochure
Learn more about 2020 from our experts
Expert interview with Dorthe Marie Sveistrup Jacobsen

Expert interview with Klaus Rasmusen
Expert interview with Mikkel Thamsborg

Low sulphur means high cat fines
If you are running your vessel on HFO in some form, the cat fines in your fuel can damage your engine. A 2020 Filter Solution upgrade is the best way to protect yourself from downtime and repairs.

Learn more