Renewable power source
Liquid biofuels are usually made from biomass sources. For power generation applications, they can either be blended with liquid fossil fuels or can be used as drop-in fuels to directly replace these traditional fuels. The most common variants are biodiesel, bioethanol and hydrotreated vegetable oil (HVO). While liquid biofuels can be classified as renewable, they do not all have the same carbon footprint – fuels made from food crops are less sustainable than those made from organic waste or algae.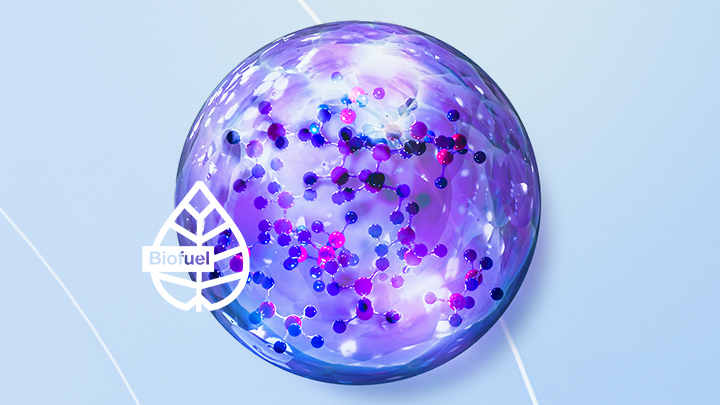 Liquid biofuel in power generation applications
Liquid biofuels can be used for power generation in MAN four-stroke and two-stroke diesel engines. In power plants with dual fuel engines, liquid biofuels offer an attractive alternative to natural gas in times of shortages or high prices.
Biofuels are regarded as a contribution to the ongoing energy transition. They can be fully renewable and nearly 100% carbon neutral, depending on the feedstock. Transport, storage, and handling are simple – biofuels do not require new infrastructure and can be used as drop-in fuels.
reduction in CO2 emissions using biofuel derived from waste wood
of MAN liquid fuel and dual fuel engines run on biofuel
Producing biofuels

The production of biofuels is developing rapidly. First-generation biofuels are produced from food crops grown on arable soil. The sugar, starch, or oil contained is converted into biodiesel or ethanol. This accounts for about 99% of today's biofuels. Second-generation biofuels are made of lignocelluloses, wood biomass, agricultural residues, waste vegetable oil, and public waste. Third-generation biofuels are derived from microalgae cultivation; however, to date, most efforts to produce fuel from algae have been abandoned.
MAN liquid biofuel solutions
Liquid biofuels are suited to all our power generation solutions, including base-load, peaking, combined heat and power, and hybrid power generation. MAN four-stroke engines can provide a power output of up to 26 MW, MAN two-stroke engines deliver up to 68 MW. Our engine-based GenSets reach fuel efficiencies of up to 50%, which can be further increased by another 4% in an engine combined cycle (ECC).

Liquid fuel engines
MAN two-stroke and four-stroke liquid fuel engines are renowned for their fuel flexibility and high fuel efficiency. They run on HFO, diesel, crude oil, and, of course, liquid biofuels. They are also agile, with fast starting and ramp-up capability as well as high part load efficiency and low load operation capacity.
MAN exhaust gas after-treatment technologies can be used to meet strict international emission levels.
Discover our liquid fuel engines
Dual fuel engines
These engines switch seamlessly between gas and liquid biofuel operation, delivering maximum output flexibility and reliability in both two-stroke and four-stroke designs. They comply with international environmental requirements. Dual fuel capability increases the flexiblity of your investment if you plan to switch to gas at a later stage, or if an uninterrupted gas or liquid fuel supply can't be provided.
Discover our dual fuel engines
Blast furnance gas to bioethanol
The steel industry is a CO2-heavy industry. However, new technology from MAN Energy Solutions allows our customer to produce bioethanol from the waste gases produced by its steelworks in Belgium. This process started running in 2020 with a solution that consists of a three-stage geared compressor, including a dry separator (scrubber), cooler, piping system and instrumentation in a complete turnkey installation. In recognition of this effort to decarbonize, the EU has called this a major step towards a "steelworks for the future with zero emissions".
Learn more about producing bioethanol from waste gases
Hybrid power plant on Bonaire
Together with partners, MAN Energy Solutions has built a wind-diesel hybrid power plant on the Caribbean island of Bonaire. While wind power is the primary energy source, the engine power plant (running on biodiesel, diesel oil and HFO) kicks in during calm periods or peaks in demand to ensure the population of the island has a reliable power supply.
Learn more about the hybprid power plant
State-of-the-art biorefinery
Energy company Total gave an old fossil fuel refinery in the south of France a new lease on life as a biorefinery. A turbo compression system supplied by MAN Energy Solutions was part of the complicated conversion. When the project came under fire for the quantity of imported raw materials to be processed on site, the company acted rapidly to commit to a sustainable supply mix and ensure a successful launch. The plant was brought into operation in 2019.
Learn more about state-of-the-art biorefinery