Green hydrogen opens the door to net zero

Green hydrogen is CO2-neutral because it is made using renewable energy, as opposed to blue and gray hydrogen, which are made from fossil fuels. Together with its derivatives, green hydrogen offers solutions for the decarbonization of many industrial sectors, and is especially important where direct electrification is not possible. MAN Energy Solutions provides holistic hydrogen solutions, enabling both the production of green hydrogen from renewable energy sources and the utilization of green hydrogen and its derivatives as net-zero fuels.
Hydrogen offers new ways
to decarbonize
Hydrogen and its derivatives offer decarbonization options for the process industry, transportation, and power and heat supply where electrification is not an option. Industrial processes that run on hydrogen, ammonia, and methanol of fossil origin can change to green alternatives.
One example is the production of green steel using green hydrogen, which lowers emissions by 30-40%. In power and heat supply, our medium-speed gas engines can currently be operated with up to 25% hydrogen admixture. Synthetic natural gas allows the CO2-neutral operation of ships and power plants by using the existing infrastructure.
CO2 emissions during the combustion of green hydrogen
of green hydrogen production requires ~53 kWh of electricity
lower emissions possible in steel production with green hydrogen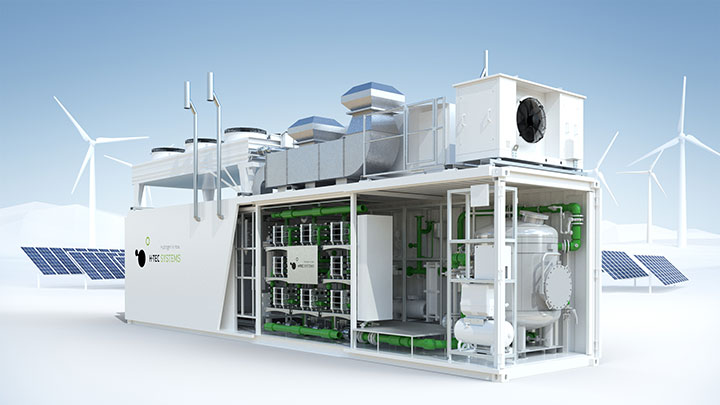 Hydrogen extraction and conversion

In electrolysis, the energy of the sun, water or wind is converted into hydrogen. The proton exchange membrane electrolysers (PEM electrolysers) used for this process are manufactured by MAN Energy Solutions and its subsidiary H-TEC SYSTEMS.

The resulting green hydrogen is then either stored, used directly as a fuel, mixed with natural gas, or converted into other fuels such as synthetic natural gas (SNG), green ammonia or green methanol using the power-to-X process. MAN DWE® offers reactors for these hydrogen-to-X processes.

MAN hydrogen solutions

MAN gas-powered engines are H2-ready and operable in stationary mode with a hydrogen content of up to 25% by volume in a gas-fuel mix. This includes the MAN 35/44G TS, 51/60G and 51/60G TS gas engines. 100% H2 combustion is in development.

MAN 51/60G
The MAN 51/60G offers superior performance with its two-stage turbocharging. Offering best-in-class performance and low emissions, it sets new standards for gas engines.
Learn more on gas engines
MAN 35/44G
The MAN 34/44G offers ultimate performance and maximum efficiency while keeping emissions low. Also available with two-stage turbocharging.
Learn more on gas engines
25% of hydrogen admixture in gas engines
Laying the groundwork for MAN engines to run on ammonia and methanol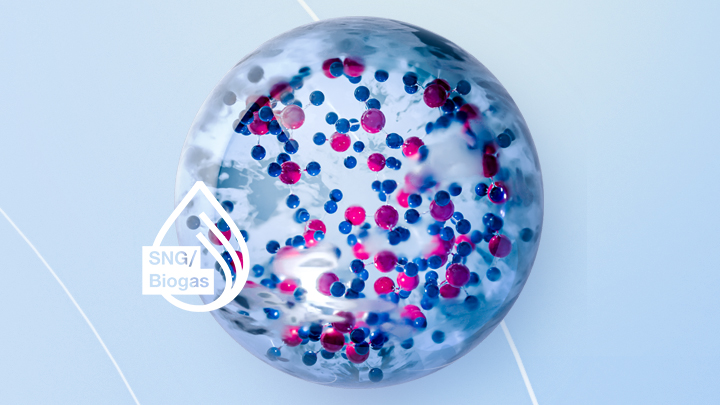 SNG as a short- and
medium-term measure
Until processes have been adapted to hydrogen, SNG is a CO2-neutral alternative to natural gas for the transition period. Currently, SNG made from hydrogen can be used in natural-gas-powered applications with minimal adaptation. Operators save on CO 2 and can enhance their environmentally friendly reputation. Long-distance shipping is a good example of an application that cannot be simply electrified with batteries but where SNG is practical.
Hydrogen and SNG as door openers for net zero
Find out how green hydrogen and its derivatives make decarbonization possible for hard-to-electrify industries. In our white paper you can find out more about grey, blue and green hydrogen, electrolysis and methanation, Power-to-X, production, transport, and infrastructure.
Survey report 2022
Some time ago, we asked you about the relevance of future fuels for your business, and the opportunities and challenges you saw ahead for future-fuel production. From the numerous replies, we have extracted the most relevant results and are happy to share them.
Download white paper and report
Tuesday, October 4, 2022
Study Shows Competitive Green-Hydrogen Production Possible in Northern Germany
MAN Energy Solutions and Fraunhofer IST analyse options for cost-efficient hydrogen supply to Salzgitter industrial cluster
MAN Energy Solutions and the Fraunhofer Institute for Surface Engineering and Thin Films (IST) have published their analysis of the framework conditions for the future supply of green hydrogen to the Salzgitter steel site near Hannover. Commissioned by Hydrogen Campus Salzgitter, the study investigates, among other questions, the role locally produced green hydrogen could play to support German supply and its potential competitiveness with imports.
The study's calculations show that – if used directly without further conversion – local hydrogen can be economical and even cheaper than imports from 2030 onwards. While production costs of around 4.00 euros per kilogram are possible in northern Germany, hydrogen imported from Tunisia, for example, would cost at least 4.70 euros to produce – profit margins in both cases not included.
Marc Grünewald, Head of Business Development, Power and New Energies at MAN Energy Solutions, said: "In the case of direct use, local hydrogen has an economic advantage due to the elimination of transport and conversion costs. As such, green hydrogen can be produced in northern Germany at competitive prices and form the basis for a German hydrogen initiative – this is good news for German industry."
For the study, the authors modelled different supply chains for green hydrogen and compared possible import routes, such as those from Portugal, Canada, Tunisia and Australia. Although green hydrogen can be produced much more cheaply in countries with significant amounts of sunshine, it must then be converted for transport to Germany and subsequently back again for domestic use. This process step, which is fraught with costs and losses, drives the total expense above the cost price of H2 produced from wind energy in northern Germany, which can be transported by pipeline to its destination for immediate use.
Grünewald added: "Of course, we will still need imported hydrogen, and in large quantities, for two reasons. Firstly, due to the limited wind-energy potential in Germany, we can only cover a fraction of the prospective demand from domestic sources. Secondly, the local cost-advantage disappears the moment the hydrogen is not for direct use but rather as a raw material for synthetic fuels such as ammonia, methanol or methane. This will be the case in many instances, as for example in the shipbuilding or aviation industries. Accordingly, in addition to domestic production, we also need strong, international partners and import routes from the sunny or windy regions of North Africa, Patagonia, Scotland and Canada."
Due to its low energy-density and high volatility, pure hydrogen cannot yet be transported economically over longer distances, while ports possess neither tanker fleets nor appropriate infrastructure. Experts therefore assume that international transport will initially scale up via conversion to more conveniently transportable media, such as methanol, ammonia, etc.
Due to low technological maturity and lack of infrastructure, the study by MAN Energy Solutions and IST did not consider liquefied hydrogen or so-called LOHCs (Liquid Organic Hydrogen Carriers) in its analysis.
"These technologies may play a role after 2030 but it's too early to tell," Grünewald said. Converting hydrogen into ammonia, methane or methanol, however, would quickly entertain large-scale import scenarios. "The world needs a massive amount of industrially-scaled, green hydrogen production. This study shows that Germany can also play an important part in building this supply."
Documents
MAN ES_PM_Studie_Salzgitter_EN
Get notified about press releases