Fueling the transition to carbon neutrality
Synthetic natural gas (SNG) or biogas have the same low NOx, SOx, and particulate matter emissions as natural gas, and they can be carbon-neutral depending on the feedstock and conversion energy source. Both can be blended with natural gas to reduce the carbon footprint in power generation.
They also reduce dependance on the fluctuations of the natural gas market. Another advantage is that the existing natural gas infrastructure can be used to transport and store SNG or biogas. A power plant running on gas causes approximately 50% fewer carbon emissions than one burning coal. Emissions can be further reduced with high efficiency solutions. SNG or biogas can make the process carbon neutral.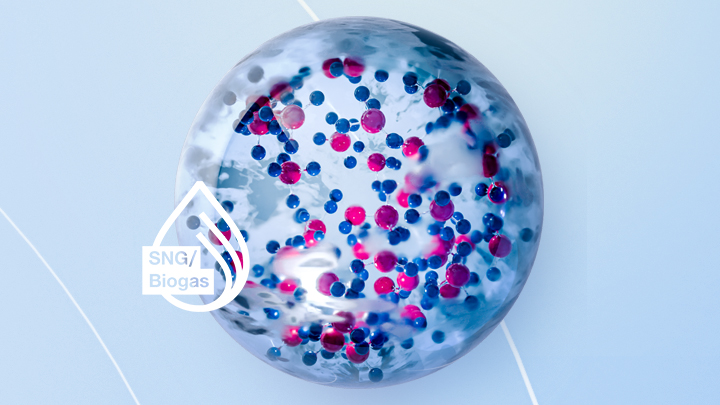 Multiple power and heat applications for SNG or biogas

The use of alternative fuels such as SNG or biogas is now made even more relevant by the rising prices and declining availability of natural gas threatening security of supply.
MAN dual fuel and gas engines are perfectly suited for generating power and heat from 100% SNG or biogas, or blends. The highly efficient engines include two-stroke and four-stroke, gas, and dual fuel models. You can use them for base-load, peaking or combined heat and power.
Green hydrogen – making net zero happen
Hydrogen opens up new ways of decarbonizing shipping, power generation and the process industries.
To explain how we are helping to build hydrogen value chains for power generation, we have created a unique scrollytelling experience. Simply scroll and select your business requirements to produce your own hydrogen value chain report. MAN Energy Solutions is driving the development of green hydrogen technologies: Producing, transporting, storing and converting green hydrogen into other net-zero fuels so that you can make the most of this precious element.
total efficiency of MAN 35/44G TS engines in Schwäbisch Hall CHP plant
homes in Stuttgart, Germany, get their heat from three MAN 35/44G enginesrunning on biogas
biogas usage in MAN gas engines enables total independence from natural gas
The differences between
SNG and biogas
The differences between SNG and biogas lie in what they are made from and how they are made. SNG can be produced using renewable or surplus energy in power-to-gas systems. SNG can also be derived from fossil fuels and biomass via gasification and methanation processes. Biogas is produced from biomass and waste products by purification.
Converting renewable electricity into storable fuels spreads the benefit of carbon-neutral energy across sectors. In a power-to-X process, green energy is turned into green hydrogen via electrolysis, which is in turn converted into carbon-neutral synthetic fuels. MAN Energy Solutions and its subsidiary H-TEC SYSTEMS are experts in manufacturing proton exchange membrane (PEM) electrolyzers for this purpose.
With our MAN DWE ® Reactors we provide the methanation reactors to produce SNG from green hydrogen.

MAN SNG or biogas solutions
MAN dual fuel engines and gas engines are all available for use with SNG or biogas. Our gas and dual fuel technology is a secure investment in a low-carbon future.
MAN 51/60G
The MAN 51/60G sets new standards for gas engines with its best-in-class power output and low emissions. The optional two-stage turbocharging gives superior performance.
Learn more about gas engines
MAN 35/44G
Delivering ultimate performance and top efficiency with low emissions, this compact engine is also available with two-stage turbocharging.
Learn more about gas engines
MAN 51/60DF
This dual fuel engine runs efficiently on diesel or gas and can switch fuels without any fluctuations in speed or output. Our MAN 51/60 diesel engine can easily be upgraded to dual fuel capability.
Learn more about dual fuel engines
MAN SNG or biogas reference cases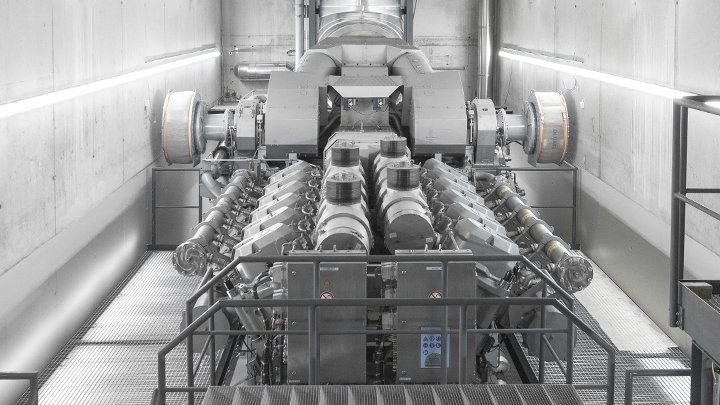 MAN 12V35/44G TS for Schwäbisch Hall
MAN Energy Solutions commissioned the new combined heat and power plant in the town of Schwäbisch Hall in southern Germany. We supplied two MAN 12V35/44G TS gas engines to replace the plant's two 3 MW engines. The CHP plant now achieves a fuel efficiency of up to 90% and an electrical efficiency of 47%. Schwäbisch Hall also uses biomethane as fuel, reducing its dependence on natural gas supplies.
Learn more about CHP in utility
24 x MAN 20V35/44G TS for Statera Energy, UK
The new power generation company Statera Energy will provide 300 MW of back-up power to the UK national grid using 24 MAN 20V35/44G TS gas engines in six new power plants. Man's gas engines ensure fuel efficiency and low emissions. The engines can also be operated on 100% climate-neutral SNG as soon as it is available. We thus ensure Statera's power plants can contribute to a fully decarbonized economy in the future.
Read the full article on gas engine power plants