Green hydrogen opens the door to net zero

Green hydrogen is CO2-neutral because it is made using renewable energy, as opposed to blue and gray hydrogen, which are made from fossil fuels. Together with its derivatives, green hydrogen offers solutions for the decarbonization of many industrial sectors, and is especially important where direct electrification is not possible. MAN Energy Solutions provides holistic hydrogen solutions, enabling both the production of green hydrogen from renewable energy sources and the utilization of green hydrogen and its derivatives as net-zero fuels.
Hydrogen offers new ways
to decarbonize
Hydrogen and its derivatives offer decarbonization options for the process industry, transportation, and power and heat supply where electrification is not an option. Industrial processes that run on hydrogen, ammonia, and methanol of fossil origin can change to green alternatives.
One example is the production of green steel using green hydrogen, which lowers emissions by 30-40%. In power and heat supply, our medium-speed gas engines can currently be operated with up to 25% hydrogen admixture. Synthetic natural gas allows the CO2-neutral operation of ships and power plants by using the existing infrastructure.
CO2 emissions during the combustion of green hydrogen
of green hydrogen production requires ~53 kWh of electricity
lower emissions possible in steel production with green hydrogen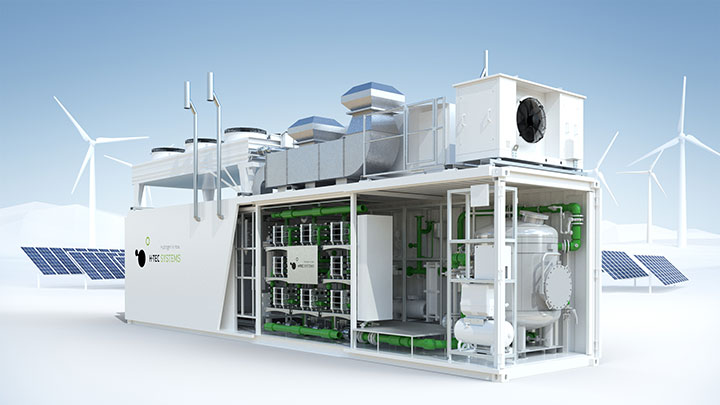 Hydrogen extraction and conversion

In electrolysis, the energy of the sun, water or wind is converted into hydrogen. The proton exchange membrane electrolysers (PEM electrolysers) used for this process are manufactured by MAN Energy Solutions and its subsidiary H-TEC SYSTEMS.

The resulting green hydrogen is then either stored, used directly as a fuel, mixed with natural gas, or converted into other fuels such as synthetic natural gas (SNG), green ammonia or green methanol using the power-to-X process. MAN DWE® offers reactors for these hydrogen-to-X processes.

MAN hydrogen solutions

MAN gas-powered engines are H2-ready and operable in stationary mode with a hydrogen content of up to 25% by volume in a gas-fuel mix. This includes the MAN 35/44G TS, 51/60G and 51/60G TS gas engines. 100% H2 combustion is in development.

MAN 51/60G
The MAN 51/60G offers superior performance with its two-stage turbocharging. Offering best-in-class performance and low emissions, it sets new standards for gas engines.
Learn more on gas engines
MAN 35/44G
The MAN 34/44G offers ultimate performance and maximum efficiency while keeping emissions low. Also available with two-stage turbocharging.
Learn more on gas engines
25% of hydrogen admixture in gas engines
Laying the groundwork for MAN engines to run on ammonia and methanol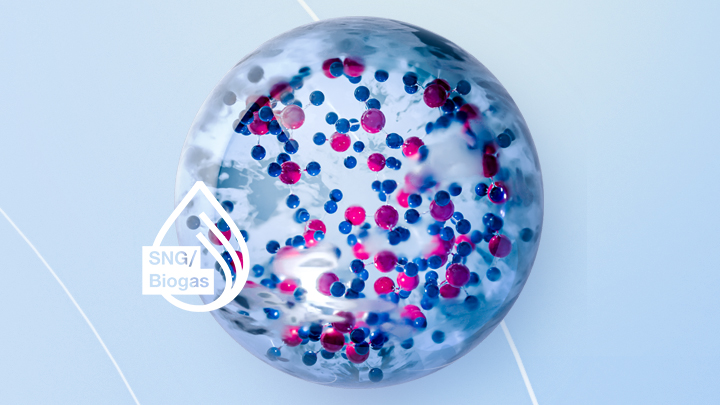 SNG as a short- and
medium-term measure
Until processes have been adapted to hydrogen, SNG is a CO2-neutral alternative to natural gas for the transition period. Currently, SNG made from hydrogen can be used in natural-gas-powered applications with minimal adaptation. Operators save on CO 2 and can enhance their environmentally friendly reputation. Long-distance shipping is a good example of an application that cannot be simply electrified with batteries but where SNG is practical.
Hydrogen and SNG as door openers for net zero
Find out how green hydrogen and its derivatives make decarbonization possible for hard-to-electrify industries. In our white paper you can find out more about grey, blue and green hydrogen, electrolysis and methanation, Power-to-X, production, transport, and infrastructure.
Survey report 2022
Some time ago, we asked you about the relevance of future fuels for your business, and the opportunities and challenges you saw ahead for future-fuel production. From the numerous replies, we have extracted the most relevant results and are happy to share them.
Download white paper and report
Monday, November 14, 2022
Maritime Sector and Green Hydrogen Leaders Agree Ambitious Targets at COP27
Joint Statement on Green Hydrogen and Green Shipping commits to rapid adoption of green hydrogen-based fuels this decade for full decarbonisation of shipping by 2050; calls on policymakers to match ambition
At a meeting at the 2022 United Nations Climate Change Conference (COP27) in Sharm El-Sheikh, Egypt, MAN Energy Solutions – along with leading organisations across the shipping value-chain and the largest producers of green hydrogen – signed a 'Joint Statement on Green Hydrogen and Green Shipping'. The document commits all signatories to the rapid adoption of green hydrogen-based fuels during the current decade in order to achieve the full decarbonisation by 2050 of the shipping sector, one that currently accounts for 3% of global greenhouse gas emissions. It also calls on policymakers to match these ambitious targets.
CEO Uwe Lauber, signed the Joint Statement on behalf of MAN Energy Solutions and said: "Decarbonisation of the marine industry is a mammoth undertaking but, I believe, eminently achievable through cooperation with like-minded industry partners. At MAN Energy Solutions, we believe that hydrogen has a key role to play in getting to net zero and our recent, significant investment in our hydrogen subsidiary, H-TEC SYSTEMS, intends to quickly transform it into a mass-producer of PEM electrolyzers. More than anything, the world needs a massive amount of industrially-scaled, green hydrogen production to build momentum for the broad adoption of hydrogen as a maritime fuel."
The Joint Statement was facilitated by Climate Change 'High-Level Champions' – UN nominees that connect governmental work with the voluntary and collaborative initiatives taken by cities, regions, businesses and investors – and nonprofit energy organisation, RMI. Besides MAN Energy Solutions, it was also signed by – among others – the Aspen Institute, the Global Maritime Forum's Getting to Zero Coalition, the Green Hydrogen Catapult, InterContinental Energy, and A.P. Moller - Maersk.
Signatories have agreed to pursue cross-sector collaboration to achieve:
commercially-viable, zero-emission, deep-sea vessels from 2030 with the intention of using exclusively zero-emission-powered ocean-freight services by 2040;
the scaling-up of green hydrogen production to 5.5 million tons per year by 2030;
the full decarbonisation of the shipping sector by 2050 at the latest.
They also called upon international authorities and national governments to support private-sector commitments with a correspondingly ambitious policy, and specifically asked the International Maritime Organization and member states to commit to a 100% emissions reduction within the maritime sector by 2050 with robust, interim targets.
Documents
PR MES_COP27 Declaration_EN
Get notified about press releases