Development
& production Zurich
World-class technology comes to life in the heart of Zurich. At MAN Energy Solutions Switzerland, 800 employees from around 40 nationalities are responsible for the development, design, production, sales and service of high-tech compression systems. These are used to enable critical processes in industry sectors such as energy and chemicals. The company strives to transform energy into sustainable progress and prosperity for a climate-neutral future. For this purpose MAN Energy Solutions provides digitalized technology innovations, which set new standards within the industry.
below sea level is where the world's first subsea compressors run with an availability of close to 100 %
inhabitants of Esbjerg will receive climate-neutral heat thanks to the innovative MAN ETES Heat Pump solution
Technology solutions from Zurich
employees work for the largest industrial employer in the city of Zurich, Switzerland
of production area in the heart of Zurich is where high-tech compression solutions come to life
Work with us at MAN Energy Solutions Switzerland

At MAN Energy Solutions Switzerland, our most valuable assets are our employees. We support our employees in their professional development and personal growth. Everyone gets the opportunity to make a real difference for future generations by helping our customers in crucial industry sectors to achieve the target of "net zero". It's what we call Moving Big Things To Zero. Want to join us on this exciting journey towards a climate-neutral energy future? We look forward to meeting you!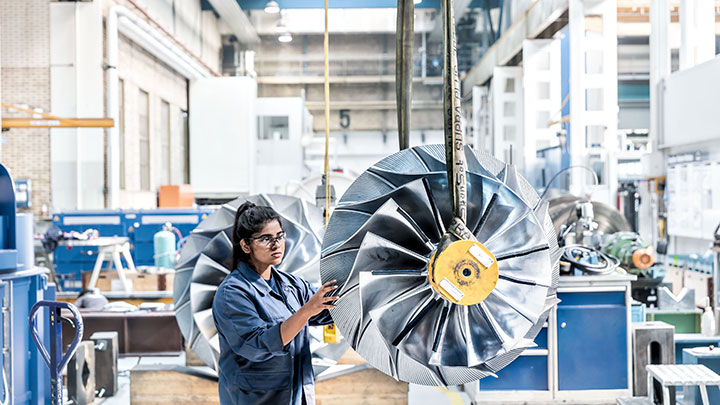 Career and training offers
News from MAN Energy Solutions Schweiz AG
The Zurich production site has existed for over 200 years: the company Escher Wyss & Cie. was founded in 1805 at the Neumühlequai. In 1894, the company moved to the Escher-Wyss-Platz, where MAN Energy Solutions is located until this day.
Escher Wyss & Cie. and Sulzer, which was founded in 1834, merged in 1983 to Sulzer Escher Wyss AG. In 2001, Sulzer Turbo was integrated into the MAN Group as MAN Turbo and later merged with MAN Diesel to MAN Diesel & Turbo.
The current company brand MAN Energy Solutions was established in 2018. The new company name embodies the company's strategic and technological departure into a climate-neutral future.
Escher Wyss was founded in Zurich
Sulzer acquires Escher Wyss
Renaming to MAN Energy Solutions Switzerland Ltd.