Integrated energy production
The challenges of the energy transition bring opportunities for energy producers. The question now is not how much energy you produce, but how intelligently you integrate it. What do we mean by integration? It's not just about adding renewables to the mix. We are talking about managing energy flows, reducing waste, storing surplus energy, turning CO2 into something useful, raising efficiency, lowering production costs, and finding new economic outlets. Integrating energy means bringing together new ideas, new energy sources, new technologies, and new business models.
of the world's energy goes on heating and cooling
the EU is to be climate neutral
of CO2 emissions come from power generation
Building an integrated energy system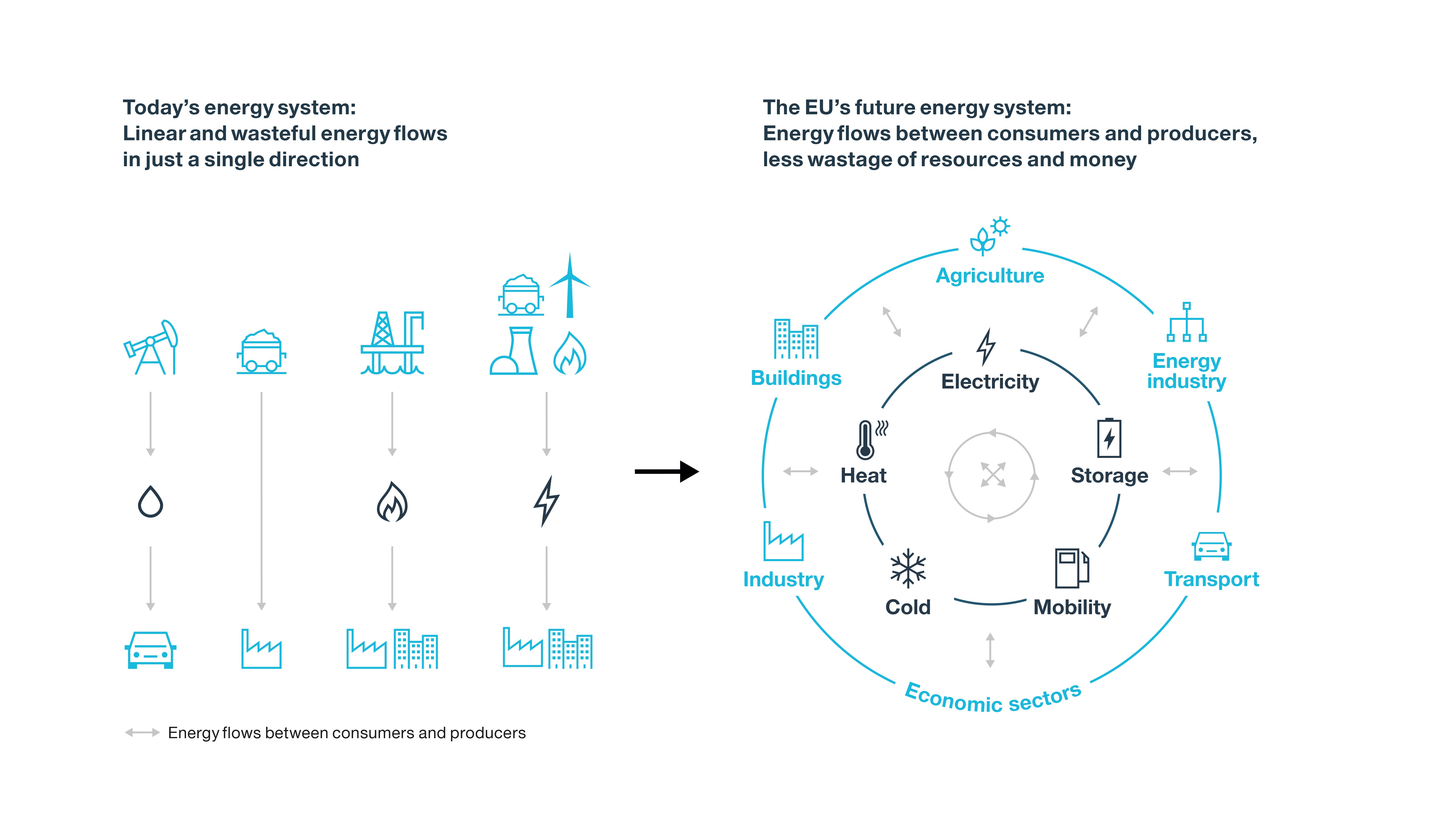 In the old energy system, flows are linear: Unused energy is wasted. With integrated management, energy flows between different producers, sectors, and users; it can be stored, or transformed into fuels, reducing waste and costs.
Instead of linear, the ideal integrated energy system is circular: Energy efficiency has the highest priority, the least energy-intensive choices are prioritized, unavoidable waste streams are reused for energy purposes, and synergies are exploited across all sectors. As a global company with EPC competence in power plants, MAN Energy Solutions has the portfolio of technologies and consulting expertise to help companies with power production capabilities become efficient energy production and management companies. We use energy management systems to integrate your power production facilities in the public grid or in your own microgrid. We also integrate renewable sources, thermal power generation, a multitude of energy storage systems, and methods of converting excess electricity into carbon-neutral fuels.
Go with the flow: There's more than one way to integrate energy
Get more information from our white paper and survey report
Discover how you can benefit from integrated energy production
Find out about energy efficiency in a circular system, how to increase the direct electrification of the end-use sector, and how to produce and use renewable and low-carbon fuels.
Survey report 2021

At the end of 2021, we conducted a survey among our customers on the topic of integrated energy production. It looks at expectations, challenges and issues such as the energy supply chain.
Download white paper and report
Discover your opportunities with our products and solutions
We are ready for your questions
There is no one-size-fits-all response to the challenges of energy integration. In fact, the only common ground is the multitude of questions. But that is what makes this issue so exciting. So don't hold back.
Energy & Storage

Urban energy

MAN Energy Solutions is the world's leading provider of integrated power systems. Our broad portfolio offers many ways to optimize your grid with customized, modular, single-source solutions. Urban environments are also being affected by the changes to the energy market. On the basis of our long-standing expertise, we are ready to develop innovative energy solutions together with you, our customers.

Download brochure

Energy & Storage

Utility energy

MAN Energy Solutions is the world's leading provider of integrated power systems. Businesses, public infrastructure developments, and the quality of life of millions of people depend on the energy supplied by utility companies. Our aim is to help you strengthen your competitive position and boost your profitability. We ensure you can be confident about the future by using flexible technology concepts, integrating renewables, reducing the cost of energy, and lowering emissions.

Energy & Storage

Industrial energy

MAN Energy Solutions is the world's leading provider of integrated power systems. Our broad portfolio offers many ways to set up independet grips. As a long-standing partner of many industrial customers, we know that an efficient and cost-effective supply of electricity, heat, and cold plays a key role in ensuring competitiveness. MAN will support your business with long-term energy supply solutions that give you the necessary flexibility to adapt to changing circumstances.