H2 – key player in the Maritime Energy Transition
Take a look behind the scenes and watch Development Engineer Sebastian Rösler work on the MAN Energy Solutions hydrogen engine on the single-cylinder test bed
At MAN Energy Solutions, we are intensively working on the climate-neutral ship propulsion system of the future. Hydrogen-powered engines, amongst other systems, will play a crucial role on the path towards decarbonized shipping. Get to know some of the people developing the green hydrogen engine of the future.
The goal is clear: by 2050, shipping must halve its CO2 emissions. This upcoming Maritime Energy Transition and related challenges are actively driving the entire maritime world and all involved stakeholders.
We at MAN Energy Solutions are already supporting this Maritime Energy Transition and are deeply committed to actively playing a role and providing a clear path.
Behind the scenes at MAN Energy Solutions, many dedicated and passionate people are involved in the development of numerous solutions that contribute to the decarbonization of the maritime industry.
Some of those activities have been bundled as part of an extensive research project called E2Fuels. In this project, the use of electricity-based fuels and hybrid systems for different applications in the maritime and power generation fields is being analyzed.
It fascinates me to unlock our engines' full potential and prepare them for a decarbonized future
Towards a green hydrogen future
One of the promising solutions in this area is the internal combustion four-stroke engine running on hydrogen.
Hydrogen as a future fuel type offers great potential as it doesn't contain any carbon that is consequently emitted as CO2 in the combustion process. Also from a cost perspective, hydrogen-burning combustion engines have a clear advantage in comparison to fuel cells. And as the production of green hydrogen is reaching a more mature level, its potential is even growing.
Hydrogen offers a bright future for renewable energy conversion and consequently for MAN engines, too.
The challenges related to hydrogen, such as its very low density and the requirement to store it at either high pressure or very low temperatures, provide a clear framework for the ongoing product development.
However, thanks to the expertise, passion, and pioneering spirit of all involved employees, the roadmap for a marine engine running on hydrogen is set. The first relevant applications in the marine market could be fuel-share applications running on hydrogen and diesel that can be used in coastal regions or fjords with regulations for ultra-low emissions. The first application for a 100% hydrogen marine engine will probably be overseas transport by means of hydrogen carriers.
Hydrogen is a relevant building block to bequeath a world worth living in to our children and grandchildren.
Timeline H2 engine development
Want to find out more?
Download our latest paper and get guidance regarding Hydrogen as a relevant future fuel type for the maritime shipping industry and four-stroke engines.
CO2 emissions with hydrogen as fuel type
Hydrogen is the simplest and most basic renewable fuel generated by electrolysis, and is carbon-free with the potential for the lowest emissions from the combustion process. Furthermore, hydrogen has considerable potential as a storage medium for renewable electricity. Already since 1992, MAN has conducted research on hydrogen operation with HD-H2 SI (Otto) engines, and in 1997 on the first MS-H2-CI (Diesel) engine in cooperation with TUM. In 1999 MAN introduced Hydrogen-driven airport-busses in Munich, and from 2006 MAN-busses for Berlin.
Main advantages:
Hydrogen is an attractive fuel for internal combustion engines – also compared to fuel cells
Combustion of hydrogen produces no GHG emissions
In the ongoing energy transition, hydrogen is a future fuel for the marine industry - either in its own clean form – or as media for other liquid fuels generated by Power-to-X

Focus areas:
Availability as bunker fuel
Safety in handling, transport, and storage processes – MAN Cryo cooperation
Scale of production and costs – H-TEC electrolyzer cooperation
Hydrogen needs to be compressed (700 bar) or liquified (-253 °C)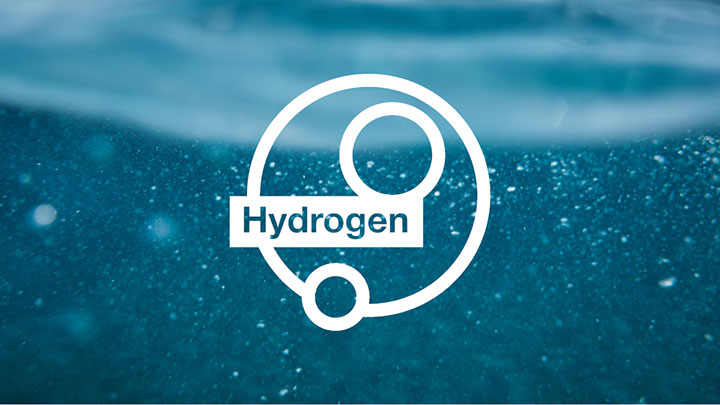 Solutions / technologies by MAN Energy Solutions:
Four-stroke:

Products: Four-stroke engine concepts: Spark-ignited (SI) engines with low-pressure hydrogen admission, dual-fuel (DF)
engines with low-pressure hydrogen and pilot fuel ignition, and future compression ignition (CI) engines with high-pressure injection system.
Solutions: MAN Cryo fuel gas supply systems (FGSS)
Ship applications: Propulsion fuel for vessels with limited range and fixed operation patterns, auxiliary power fuel for GenSets and hybrid propulsion plant configurations
Go to four-stroke engines
Webinar: Hydrogen in short-sea shipping
Decarbonization in shipping is a challenge and the alternative fuel choices are wide. We would like to give some guidance, support and exchange with you on the matter - this time around hydrogen.
The webinar will be presented by Louise Andersson, Managing Director, MAN Cryo and Alexander Feindt, Global Business Development Manager, Four-Stroke Marine.
Go to recording
MAN Energy Solutions experts on the climate impact and business case for converting ships to dual-fuel engine operation.

MAN Energy Solutions expert Matthias Auer on developing hydrogen-capable, gas-fired engines for power plants.

Shipping is annually making large withdrawals on the carbon budget – so large they probably cannot be caught up.