SNG: Synthetic gas for the maritime transition
A viable path to decarbonization
MAN Energy Solutions is driving the maritime energy transition with technologies for low-carbon fuels, including green engines and retrofits. Our synthetic natural gas (SNG) solutions offer you a clear path to low-carbon shipping.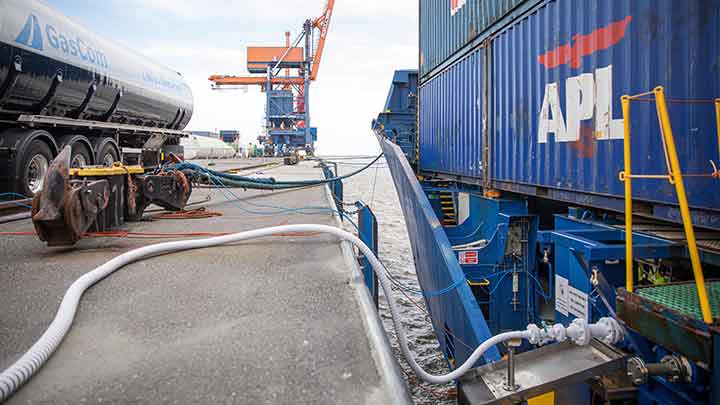 From HFO to LNG to SNG
Most of the world's ships run on heavy fuel oil (HFO). The climate crisis has made it essential to find low-carbon alternatives. In recent years, liquefied natural gas (LNG) has become the alternative of choice, but it still a fossil fuel that produces greenhouse gases (GHG). SNG is a new low-carbon alternative. SNG is chemically the same as the main combustible constituent of LNG, so it can used as a direct replacement or blended with LNG, depending on the supply.
SNG as maritime fuel
SNG is optimally suited for the two- and four-stroke dual-fuel engines in MAN's range and ideal for ships that already run on LNG and aim to save additional emissions. Achieving fuel supply aboard ship is straightforward enough with the right equipment – as with LNG. The new gaseous fuel has to be held at cryogenic temperatures prior to bunkering (-162°C). However, an already established LNG infrastructure can also be used for fueling with SNG.
Reference case: ElbBLUE
World's first use of SNG in commercial shipping
In September 2021, the 1,036-TEU vessel ElbBLUE, which had been retrofitted with a four-stroke MAN 51/60 dual-fuel engine in 2017, also became the first container ship worldwide to use climate-neutral SNG on a commercial trip. The ship replaced approximately 50% of its bunkered gas fuel with SNG from the Kiwi AG plant in Wertle, Germany. The test proved that any LNG-retrofitted ship can run on carbon-neutral fuels generated by Power-to-X technology.
Read more
Managing Methane Slip
Does the issue of methane slip affect the climate benefits of LNG as an engine fuel for marine applications? Download this paper and find out more about the various countermeasures the company has taken for this purpose.
Download paper
NOx emissions of ElbBLUE running on 50% SNG
SOx emissions of ElbBLUE running on 50% SNG
Synthetic natural gas (SNG) can be derived from fossil fuels and biomass via gasification and methanation processes. SNG can also be produced by, for example, renewable or surplus energy in power-to-gas systems. Biogases are produced from biomass and waste products – and the resulting liquefied fuels can be referred to as BioLNG or LBG (liquefied biogas) and sometimes LBM (liquefied biomethane).
Main advantages:
SNG and Biogas have the same low NOx, SOx and particulate matter emissions as LNG, but they can be

CO2

neutral depending on the feedstock and conversion energy source

Depending on the source fuel, SNG and Biogas can be a carbon-neutral substitute for fossil fuels
SNG and Biogas can be blended with LNG to gradually reduce the CO2 footprint
Considered to be excellent bridging fuels during the ongoing energy transition

Focus areas:
The availability of SNG and Biogas as bunker fuel
Increase of production capacities
Read more
Solutions / technologies by MAN Energy Solutions :
Two-stroke:

Products: Two-stroke dual fuel engines: MAN B&W ME-GI, MAN B&W ME-GA
Ship applications: Container vessels, Tankers, LNG carriers, Bulk carriers, RoRo vessels

Four-stroke:

Products: Four-stroke dual fuel engines: MAN 51/60DF, 49/60DF, 35/44DF, 28/32DF, 23/30DF (propulsion, diesel-electric and GenSet applications)
Solutions: MAN Cryo fuel gas supply systems (FGSS), exhaust gas after-treatment systems
Ship applications: Container vessels, Tankers, LNG carriers, Bulk carriers, OSVs, Ferries, RoRo, Cruise and Fishing vessels
Go to four-stroke engines